Central Water Chiller : Air-Cooled
Model: TI-180A
Control Instrument
Have A Question?
Call 317-887-0729
for your answer.
--
CONTROL INSTRUMENT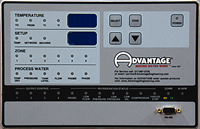 MZC III
Microprocessor based multizone controller
Intelligent zone boards
Compressors are staged individually
Continuous To Process temperature display
Continuous Setpoint temperature display
Selectable from process temperature display
Large temperature display windows
°F or °C temperature display
Refrigerant circuit indicator lights for
- Probe
- Low Flow
- High Pressure
- Low Pressure
- Compressor
- Freezestat
- Capacity Control
Water circuit indicator lights for
- Temperature Deviations
- Low Pressure
- ank Level
- Probe, Phase
Selectable lead - lag mode
Soft Key Operators
SPI communications
Audible and visual alarm
Advantage Engineering, Inc. 525 East Stop 18 Road, Greenwood, IN 46142 Phone: 317-887-0729 Fax: 317-881-1277
Privacy Statement: we will not sell, rent or release any personal information you share with us to third party vendors.
Sitemap
Product innovation and improvement is our constant goal. All features, specifications and pricing are subject to change without notice or liability.
Products are assembled in the United States of America.
© 2014 ADVANTAGE ENGINEERING, INC
Advantage Engineering Provides Industry Process Cooling Equipment For Optimizing Your Process